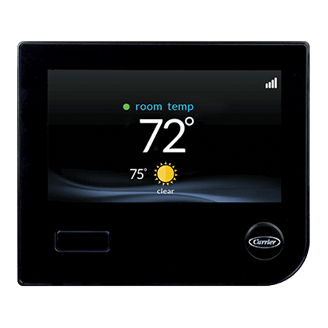 Carrier Controls in Bergen County, NJ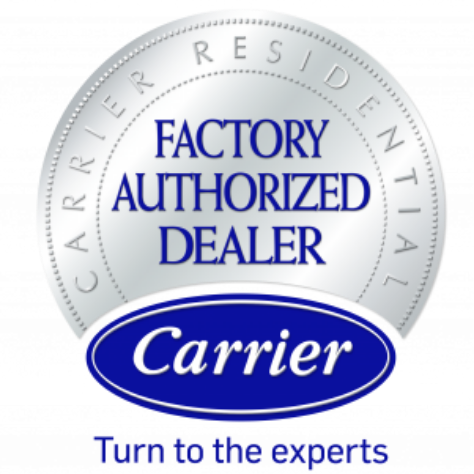 Review Score as of 6/15/23
When you invest in a quality Carrier home comfort system, you want to be sure that the thermostats and controls used to operate it are of that same high quality. That's why GRC Mechanical Services offers state-of-the-art Carrier controls that are built to be compatible with your Carrier equipment, all while helping you achieve greater home energy efficiency.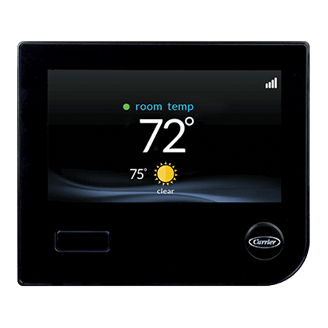 Models: SYSTXCCUIZ01-B, SYSTXCCUID01-B, Remote Access: SYSTXCCRWF01, SYSTXCCRCT01, SYSTXCCSAM01
The revolutionary Infinity Control taps the power of the Infinity System. You'll find unmatched access to every type of environmental control. Remote programming can be added as an accessory. Simply our best thermostat.
Learn more about the Infinity® Control below:
Intuitive prompts
Ideal Humidity System® for exacting comfort
Monitors air quality products
Controls fan speed
Controls ventilation
Day-at-a-glance 7-day programming
Models available with Remote Access for Internet or phone access
Models available with up to 8-zone capability
Large, easy-to-push buttons
TrueSense™ Dirty Filter Detection
10-year parts limited warranty when properly registered
System maintenance reminders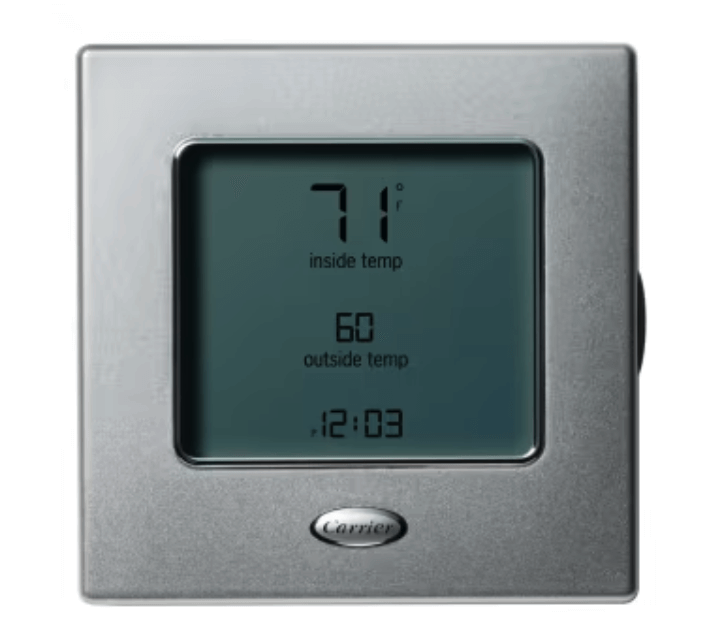 Edge® Programmable Thermostat
Models: TP-PRH, TP-PAC, TP-PHP
The Edge Programmable thermostat is an ultra-slim control that borrows style from high-end photo frames. It provides precise temperature and humidity control, and it can be customized to your home décor. It can support HYBRID HEAT® dual fuel systems, too.
Find out more about the Edge® Programmable Thermostat below:
Optional HYBRID HEAT® dual fuel compatibility
Personalized humidity settings
Optional ExP™ memory card and expansion port for personal computer programming
Compatible with two-stage heat pumps and air conditioning units
Easy replacement of existing thermostat
Customized settings for all seven days of the week
Four daily time periods for more temperature options
Vacation programming for optimum energy efficiency
Filter, UV lamp, humidifier pad replacement reminders
Large illuminated display highlighting inside temperature, outside temperature and time
Optional designer face plates sold separately
10-year parts limited warranty when properly registered
Trust GRC Mechanical Services for the right Carrier controls for your home.
When you need quality thermostats and controls from Carrier for your Bergen County home, GRC Mechanical Services is ready to help. Simply give us a call at 1-800-651-8222 or contact us online, and we will be more than happy to help with control system installation needs.